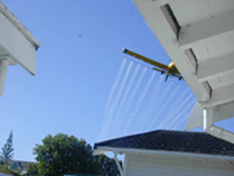 In New Zealand, activists are battling massive aerial spray campaigns targeting invasive moth species similar to gypsy moth. The arguments there are the same as in the US, with the State stubbornly insisting that even though there is insufficient safety data the invasive species should be eradicated whatever the cost.
In Canada, there is an ongoing battle between activists trying to stop blanket spraying with Foray 48B for gypsy moth and the provincial governments. For one such location, visit the Save Salt Spring Island web site.
Read the June 2007 Truth New Zealand newspaper article on the affects of Foray 48B spraying in NewZealand
An account of action in New Zealand has been kept at the Purple Pukeko Site.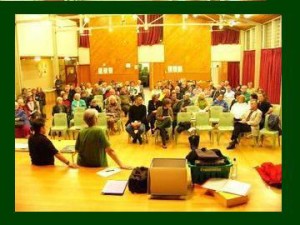 Excerpts from New Zealand News
(Compiled by Helen Wiseman-Dare at wasp [at] xtra [dot] co [dot] nz)
14 December 2007 – Greens call on Government
to admit spray campaign errors
The Ombudsman's report on Complaints Arising from Aerial Spraying is a damning indictment of the Government's handling of the painted apple moth aerial spraying campaign, the Green Party says. The Government needs to admit its errors, apologise to the people of West Auckland who were adversely affected by the spraying campaign, and take on board all of the recommendations and findings of the report, Sue Kedgley, MP and Green Party Health Spokesperson, said.
"The report has far reaching implications and should be fully considered by the Health Select Committee and other Parliamentary bodies," Ms Kedgley said.
"The Government needs to acknowledge that, contrary to their persistent denials, there were significant health effects on the affected population, and that it was wrong to refuse to disclose the contents of the pesticide they were spraying over the people of West Auckland and Hamilton. It was also wrong to use public relations spin and denial to try to justify a major programme like this. I agree with the Ombudsman's report that it is unacceptable to tell the public that there are no long term health effects from the spray when long term health studies have never been carried out," Ms Kedgley said.
Kedgley also stated that "The Green Party also agrees wholeheartedly with the Ombudsman that people must be told what the ingredients of any pesticide used in aerial spraying are if the public will be exposed to them through Government spraying campaigns. Urgent amendments are needed to the Biosecurity Act to ensure that in any future biosecurity programme the Minister of Health oversees the health effects, not the Minister of Agriculture. It is also imperative that the law is amended to require that equal consideration is given to health issues as to biosecurity and ecological issues and that there is adequate public participation in the process, especially from the affected community."
December 12, 2007

– Ombudsman Slates
Ministry of Health for failing to protect people from aerial spray

In a Report released by the Office of the Ombudsmen late last week, Ombudsman, Mel Smith states unequivocally that the aerial spray used in the Auckland and Hamilton pest incursions has not been proven "safe", contrary to Government assurances about its safety to the affected populations.

In her statement on the release of the Report, Jane Schaverien the
initiating complainant, said that Mr Smith's Report vindicates the
claims of the communities affected by aerial spraying with Foray 48B.


"Mr Smith is in no doubt that people suffered harm from the spray. He states that: in the event of future spraying of human populations with pesticide the spraying agency must provide full and accurate information …about the contents of the spray. It should also unequivocally acknowledge that there may be harm caused to some people residing or present within the spray zone." 

"This report has taken four and a half years to complete" says Ms Schaverien and notes that the findings and recommendations from the Office of the Ombudsmen are not easily ignored by the Government. "They will be pursued by the Office of the Ombudsmen under S22 of the Ombudsmen Act to ensure they are implemented."

Ms Schaverien said that the Government will not find it as easy to
discount the Ombudsman's Report as they did the findings of the
recently published Report of the People's Inquiry into the same eradication campaign.

The Ombudsman cannot possibly be accused of bias, says Ms Schaverien and his Report substantially confirms the same conclusions reached by the People's Inquiry.  She hopes that both reports will now be read and acted upon with the degree of urgency the Ombudsman expects.

Go here for a copy of the Ombudsman's Report.
Statement of Ms Jane Schaverien on the

Report of the Opinion of Ombudsman

Mel Smith On complaints Arising from Aerial Spraying of the Biological Insecticide Foray 48B on the Population of Parts of Auckland and Hamilton to Destroy Incursions of Painted Apple Moths, and Asian Gypsy Moths, Respectively During 2002 – 2004.
Ombudsman Mel Smith states unequivocally in his report that the spray Foray 48B (the spray used in Auckland and Hamilton against biosecurity incursions in 1996 and 2002-2004) has not been proven "safe" contrary to MAF, Ministry of Health, Cabinet, and backbenchers' assurances to the affected populations.
Mr Smith is in no doubt that people suffered harm from the spray. He states that: [In the event of future spraying of human populations with pesticide] "the spraying agency must provide full and accurate information …about the contents of the spray. It should also unequivocally acknowledge that there may be harm caused to some people residing or present within the spray zone."  Mr Smith's report vindicates the claims of the communities affected by aerial spraying with Foray 48B and of their spokespeople.
Findings and recommendations from the Office of the Ombudsmen are not easily ignored by governments. They will be pursued by the Office of the Ombudsmen under S22 of the Ombudsmen Act to ensure they are implemented.
The key recommendations of this report, which should be implemented, are as follows:
Development of a fast track process for the Environment Court to ensure that in the event of a biosecurity incursion for which aerial spraying may be the preferred response, the needs of people and the views of the community, cannot be ignored or sidelined. Amendments to the relevant legislation are, Mr Smith says, to be implemented "as a matter of urgency".
The Ministry of Health must not abdicate its responsibility under the Health Act 1956, allowing another government department to take responsibility for human health, as it did when allowing MAF to look after the health affects resulting from aerial spraying in Auckland and Hamilton. Mr Smith is critical of this type of interdepartmental arrangement. He recommends the appointment by the Ministry of Health of a senior official whose task it will be to look critically at all relevant human health implications, and to be prepared to express an independent
viewpoint where there appears to be a conflict between the spray operation and the human health of those who may be affected.
Priority is to be given to appropriate research to establish the effects of aerial spraying with Foray 48B on human populations. This research may include the suggestions made by Simon Hales et al, in 2004, in the Wellington School of Medicine Assessment of Potential Health Impacts of Spraying for Painted Apple Moth in Auckland. Mr Smith illuminates, in his report, the lengths to which the Ministry of Health went to suppress this research when it indicated that the spray causes harm and that there is a need for further research to determine the extent and way in which that harm is caused.
"That the fullest information about the spray [Foray 48B] and its possible effects should be made available." Mr Smith does not look benevolently on the government's entry into an agreement with the manufacturer of the spray to keep the ingredients of the pesticide secret from people who may be affected by it. It is hoped that future governments will refuse to enter into such

agreements.
The report has taken four and a half years to complete. The delay is explained by Mr Smith as in large part due to his protracted negotiations with the US manufacturer of Foray 48B to permit the disclosure of the ingredients of the spray to an independent expert. Mr Smith considered this disclosure necessary to his investigation into the human health affects of the spray.
The report concurs with the findings of the Report of the People's Inquiry (see  www.peoplesinquiry.co.nz/  ) recently published, but discounted by Minister for Biosecurity Jim Anderton and the Prime Minister in interviews following its publication. They will not be able to discount the Ombudsman's finding so simply. The Minister for Biosecurity is expected under S22 of the Ombudsmen's Act to implement Mr Smith's recommendations.  Likewise the Ministry
of Health has work to do. The Office of the Ombudsmen will be monitoring their progress.

December 12, 2007 – Government Suppression of Aerial Spraying Health Effects Exposed
Ombudsman's Report vindicates the People's Inquiry
Less than one month after the Minister of Biosecurity denigrated and dismissed the People's Inquiry Report of the
impacts and effects of aerial spraying pesticide to eradicate the Painted Apple Moth, a four year investigation by the Ombudsman has independently reached the same conclusions.
Hana Blackmore, Convenor of the People's Inquiry said today that last month's disrespectful response from both the Biosecurity Minister, Jim Anderton and the Prime Minister was another example of the manner in which the Government was seeking to continue to suppress the unpalatable facts about the health effects of the aerial spraying.
"Now we have this Report from the Office of the Ombudsmen that only confirms our experience" said Ms Blackmore.
"His Report is replete with examples of the way in which the Ministries have attempted to spin the truth and conceal the problems." 
"First they portray the spray as perfectly safe, then they belittle and dismiss the health effects that arise, and finally when respected scientists and doctors investigate and begin to report real concerns and possible pathways of exposure and effect, they are disparaged, their credentials questioned and their Reports sidelined or suppressed."
Ms Blackmore said that the Minister of Biosecurity's response today that it was unlikely that any of the Ombudsman's recommendations would be implemented, was a stark illustration of this continuing denial and suppression of the truth.
Dr Meriel Watts, author of the critical 2003 Report of the Painted Apple Moth Health Risk Assessment highlighted in the Ombudsman's report, said that given the Ombudsman's findings the Government can no longer turn a blind eye to the situation.
"It must urgently institute long term health monitoring of people exposed in all three spray programmes that were investigated in this Report" she said.
"The Ombudsman has made perfectly clear that reassurances from the Government that there was no evidence of serious long term health effects of the spray Foray 48B were not acceptable.  No research into the long-term effects have ever been conducted, and his recommendation was that this was a matter that should "receive the Ministry's urgent attention." Said Dr Watts.
Hana Blackmore commended Jane Schaverien and other member's of the Stop Aerial Spraying Group for their persistence and stubbornness in pursuing this complaint for nearly five years. 
"They have our thanks for all their hard work on behalf of the community.  The fact that the Government will not find it easy to ignore the findings from the Office of the Ombudsman, whatever Jim Anderton says, means that we finally have the opportunity to implement changes that will benefit not only the people affected in the past, but to the future operation of such eradication campaigns."

December 12, 2007 – From
New Zealand Herald

: Watchdog criticises aerial spraying

Officials in charge of aerial spraying campaigns in Auckland and Hamilton failed to pay enough attention to their effects on public health, says the Ombudsman.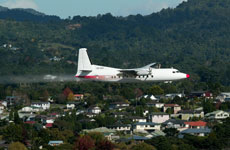 In his report – which is released today – Mel Smith found shortcomings in the actions of both the Ministry of Agriculture and Forestry and the Ministry of Health that he said needed to be recognised so they were not repeated. The report examines the impact the use of the spray Foray 48B had on more than 217,000 people living within the spray zones in West Auckland (sprayed for painted apple moths) and Hamilton (sprayed for Asian gypsy moths) between 2002 and 2004.
Mr Smith said there was evidence that the health of 3000 to 4000 people could have been harmed. He found the aerial spraying operations were themselves carried out professionally and achieved the objective for which the Government allocated more than $85 million in the 2003-05 financial years.
But Mr Smith found elements of the programme unsatisfactory and was critical of the way potential health risks were communicated. He said there needed to be clear official acceptance that although the numbers of people affected by the spraying might not be great as a proportion of the community, there were a significant number who would have required medical attention or removal from the sprayed areas.
"It is no light thing to be sprayed, perhaps repeatedly, with some substance, the ingredients of which are to some extent confidential, and to have one's life substantially disrupted for what may be a quite lengthy period of time."
Mr Smith said the Ministry of Agriculture and Forestry (MAF) had given the impression that the spray had no health effects, yet could not disclose what it contained.
"The public was therefore left to speculate about the active ingredients in the spray, which resulted in a lot of suspicion and some hysteria about the use of 'toxic chemicals' in aerial spraying over populated areas.
"This resulted in a big credibility gap for MAF with the public and stakeholders who saw or heard that the spray was indeed causing health problems … like allergic reactions."
Mr Smith said MAF's apparent denial regarding the health effects of the spray gave protest groups unnecessary credibility with the public because these groups had maintained all along that the spray was not safe.
He recommended that spraying agencies provide accurate information regarding the need for a spray programme and about the contents of the spray.
"It should also unequivocally acknowledge that there may be harm caused to some people residing or present within the spray zone."
A health service set up to provide support was used by 3888 householders with complaints including general concerns, respiratory problems, skin and eye rashes or irritation, chemical sensitivities and headaches.
Mr Smith said it was unclear whether any research into long-term effects of the spraying had been conducted. "I consider that it is a matter which should receive the ministry's urgent attention."
One of the complainants, Jane Schaverien, said she was pleased with the report, which went some way in restoring her faith in the system.
Ms Schaverien, who had lived in the Waitakere Ranges during the spraying, said it showed that the spraying had harmed some people's health and hopefully the same mistakes would not be made again.
Biosecurity Minister Jim Anderton said last night that a small number of people were mildly affected by the spraying and some were relocated, receiving any necessary medical attention and being monitored.
Efforts by the Government to publicly disclose the contents of the spray formula were blocked by the manufacturer, but it was provided to health authorities and an independent toxicologist for careful scrutiny.
Mr Anderton said the successful eradication of the pests had provided significant benefits to NZ. The economic impact of the painted apple moth alone, if it had become established, had been estimated at $58 million to $356 million over 20 years.
The Ministry of Health said that much of what the Ombudsman recommended was actually done.
"The ministry has learned a lot from its involvement in the spraying programme and will take these lessons on board for any future operations." 
11 Million Aerial Spraying Campaign Approved for Hamilton This Week
Spraying could happen from daybreak to evening every 5-7 days from the week of October 6, with hourly radio bulletins updating residents. At least one school is planning to bus pupils out on
spray day. MAF has told the Waikato Times to submit its questions on the likely health effects from the spraying via the Official Information Act.
MAF is mounting a huge information (propaganda) campaign including a 27 page booklet to all residents, plus newspaper advertising and an 8 minute video for schools.
At a meeting for health professionals at the Waikato Hospital this week, Francesca Kelly and Ian Gear told it like it wasn't, after first evicting Hana Blackmore, the press and all members of the public. Those present were told that the Waikato District Health Board supported the aerial spraying and therefore any other views from doctors, etc. were not allowed to be aired.
A mass trapping programme is to follow spraying –  in satellite towns and forestry areas around the North Island. 2,000 traps will be laid 50m apart around the Higgins Rd site. Shane Ardern (National MP) was quoted on the spraying as follows: "I am totally in favour of it. The sooner the better, the heavier the better."  Pity he did not get a jail sentence for driving up the steps of Parliament in that tractor.
The Hamilton anti spray group have formed a
new group called "WATCH" – Waikato Against Toxic & Chemical Hazards. They are holding another Public Meeting – Tuesday, 16th September, Ground Floor, Reception Lounge, City Council Building, Hamilton, 7pm – 9pm, All Welcome.  They will continue to push for the spraying to be stopped and alternatives undertaken first, and they want to share information regarding the spray programme.
November 27, 2003 – Anecdotal Reports of Foray 48B Spraying from Hamilton, NZ
[These are the reports of just one person in Hamilton. In general, anecdotal reports are given little credence by the scientific community, but such a large (and statistically significant) number of them have been made in New Zealand that they can't be ignored. A large number from Auckland have been compiled in a report (see the Auckland No Spray site above).]
Cecelia: Lives out of the area but visited 3 days after the spray. Mild asthma and headache.
Katrina: 8 yrs Eyes became inflamed and sore. She was unable to go to work for 2 days
Douglas: Young and physically fit. Rashes over legs and stomach. Never had a rash before.
Judith: Was on a full exercise programme, healthy and careful with diet. Since the spraying has been feeling worse and worse. Aching body (requiring panadol 3 hourly), runny red eyes, dark circles around eyes, runny nose, muscle soreness, lethargy, headaches and nausea. Cannot work. Feels devastated at loss of health, energy and lifestyle.
Lynley: Stayed in closed house with towels rolled up against door edges. Shortly after spraying her mouth and lips went numb.
Vicky: Daughter had severe reaction. Suffered anaphylactic shock, was unconscious for 8 minutes. Migraine for 3 days (first ever headache) blood nose. Own doctor is sure it is caused by the spray but MAF have denied and refused to allow relocation (outside the 2.5km range).
Assisted a Chinese student with visit to skin specialist. He has had a nasty rash over his body. This rash turned weepy and was very irritating. His exams were affected by his discomfort and inability to concentrate but he was given no consideration for this.
Nici: Felt squeamy the day of the spray. Felt vague that night. Sleepless. Numb tongue, tingly mouth. Feeling unwell. Phoned MAF and told it was nothing to do with the spray, must have some other health problem.
Linda: Pregnant. Lives outside of the spray zone in Hillcrest. Could taste and smell the spray. Has had constant headaches since the spray started.
Rachel: Was not concerned about the spray effects. Lives outside the spray zone. Was sprayed while visiting a fruit and vege shop in Te Rapa (which is supposed to be outside the spray zone) and 10 minutes later developed a headache. Throat felt peculiar and raspy. Mouth tingly and cheeks numb. Later in the afternoon tongue felt swollen. Days later woke feeling nauseated with diarrhoea.
Janine: Has experienced sleeplessness and weepiness since the spray started.
Julie: 2 hours after the spray developed a severe headache, nausea and cough. Felling unwell and tired with a funny throat.
Anneli: Headache for 3 days. Sleeplessness.
Hilary: 20 fantails and all the bright eyes disappeared from his bush property immediately after the first spray.
Fern: Stays out of spray zone but had to drive through on spray day. Excema on arms and face, constant headaches. Trouble sleeping. Funny tummy. Sinus. Lips numb and tingly, nostrils stinging, sore eyes, nauseas, swollen eyelids. Doctor said it was an allergic reaction. No health professionals available on the 0800. Rang hospital and was told to ring poisons centre.
David: Cutting lawns after spray. Got thorn in foot. Broke out in welts all over body and arms which lasted for 5 days.
Judy: Developed a numb mouth, hay fever and dermatitis which developed blisters. Her daughter had sneezing, stinging eyes and burning red skin.
Lucy: Developed asthma after visiting the zone.
Alan: 54 years old. Numbness around the mouth, nauseas. Horrible taste in mouth. Taking homeopathic remedy. The spray dried like milk on his black car. He called 0800 to complain about the spraying of Frankton market and received a rude reception.
Olivia: 27 years , husband and 3 children 18mth, 3yrs, 5yrs. All suffered headaches, nausea, sore throats, coughing, bleeding around the mouth, stomach pains, loss of concentration. Children not eating and sleeping. All have severe allergies. Husband had breathing difficulties. Their own Doctor (and her husband who is also a doctor ) have had spray related symptoms too. They agreed it was spray related and rang MAF and were told "would not accept a connection".
Raymond: Nausea, coughing, lethargy, lack of concentration, constant headache, burning eyes, full body sweats, drained of energy. Has missed a lot of his pilot course and failed one exam as a result of these symptoms. Daughter 1yr has developed a skin rash.
Steve: 52 years. Gets relocated as he suffered an anaphylactic attack after the first spray. 2 days after spray touched car that had been sprayed and walked in wet grass. Developed severe pain
and aches in lower torso requiring regular panadol. MAF doctor told him to wash everything down (he has a 2 story house)
Rachel: 33yrs. Was bedridden with severe headache that developed within 5 mins of returning to spray zone at 5pm in afternoon. 3 year daughter developed headache. 5 days after spray developed sore burning throat after trimming trees that had been sprayed.
Mark: Could smell spray around Hamilton Lake 4 days after spray. 3 month old baby developed fevers and was unsettled and unwell. Many mothers at playgroup are discussing problems.
Terry: 53 yrs Workd in spray area. Felt nauseous all day with headache. Spray residue on car was so thick could not see out the waterblasted screen and next day could still see spray residue.
Wilhem: Was sprayed while out jogging. Developed burning irritated skin, headache, sinus, upper respiratory irritation and flu-like symptoms in head. Headache lasted for 2 days. Unusual symptoms for him.
Colleen: 62 yrs. Stays out of spray zone for the day. When returned in late afternoon developed numb tingly mouth and lips and red burning face.
Genevieve: Developed cough that lasted a week, eczema over eyelids and itchy rash on abdomen and legs that  lasted 7 weeks.
For more anecdotal reports, see JJKbee's Weblog.
DEATHS
Sue Muller, anti spray campaigner, homoeopath and teacher, in June this year. Sue had a liver condition that pre-dated the spraying but was in a stable condition. As soon as the spraying started in her area she became ill again very quickly. She was forced to battle Aer Aqua for acknowledgement of her circumstances and lodged a complaint with the Health and Disability Commissioner about the lack of medical attention from Aer Aqua doctors. There was no doubt in her mind and that of others who knew her that the spray was the cause of her deteriorating health. Ironically there is a chapter about her approach to treating pesticide poisoning with homeopathy in Meriel Watts' book "The Poisoning of New Zealand". Her contribution to the teaching of homoeopathic medicine and to the anti spray campaign was much valued.
Various residents of the spray zone – this year of cancer, which has come on particularly suddenly in previously fit, healthy people. Some streets have numbers of residents of all ages suffering from cancer. One street alone has 6 cases. I would suggest that Aer Aqua are fully aware of this as one particular doctor's eyes welled up with tears when told of this by one of the street's residents. An ethical dilemma indeed! One of the Health shops in Glen Eden has also reported a rise in people coming in with cancer.
All the animals, birds and insects – the beloved pets, the goldfish, the parrots, the deformed baby birds dropping out of nests, the dead and dying wetas, crickets, praying mantises, butterflies, the sick hedgehogs and the missing bees and dawn chorus.
MORE THAN JUST A COINCIDENCE ?
The Two White Rhinos which died recently at the zoo after the herd became ill with bacterial poisoning.  Female rhino Mazithi and her daughter, Mbili, died last week from a soil bacterium infection. The death toll at the zoo this year now numbers four, including a giraffe and a baby ape which died in April. When spraying first began over the zoo last year, we've been told a number of the zoo's birds died.
Paul Holmes – filming earlier this year on the spraying for the Holmes programme took place in the Waikumete cemetery – site of the most intensive spraying.  During the mainly satirical programme Holmes was observed to touch the recently sprayed vegetation then put his hand to his face.  Not long after he was reported as lying in his hospital bed "terrified he was about to die". (NZ Herald) He had two procedures to clear blood clots blocking his urinary tract. Those with compromised immune systems (as cancer treatment would leave a person with) are considered to be particularly at risk of health effects from the spray.
Harry the Trainman – Spray zone resident – died in North Shore Hospital from a lung infection and emphysema earlier this year.
JUST A FEW OF OUR SPRAY VICTIMS
Bill – our long time anti spray campaigner. Along with his wife Elena, never missed a protest even though suffering health effects from the spray. Previously fit and healthy, Bill's health began a steady decline after exposure to the spray. He has now been diagnosed
with Motor Neurone disease which has affected the muscles of his throat. He is unable to talk and has difficulty swallowing and also has gastrointestinal effects. He must communicate by writing on a small whiteboard. He now needs a walker and recently needed to spend several weeks in a resthome, but is back home again for the meantime. His wife Elena has also suffered health effects including severe headaches and tiredness. Life was very difficult for her while Bill was in the resthome. His symptoms get worse after each spray.
Our thoughts go out to Bill and Elena and also to others we have heard of suffering from Motor Neurone disease and ME which came on after their exposure to the spray.
All those evacuees suffering severe bladder, kidney and bowel problems. There has been a large increase in kidney problems in Auckland and new dialysis units are being opened including one at Waitakere Hospital.
Rebecca – after spraying first began Rebecca miscarried a previously healthy baby but has since successfully given birth after taking stringent precautions to avoid the spray. Since her other child started attending a playschool near the heavily sprayed cemetery the child has suffered from ear infections, rashes and tonsillitis – as have other children there.
All those hospitalised with severe respiratory, eye problems and skin rashes after exposure to the spray.
All the children whose doctors at Starship refused to accept that the spray was causing the children's symptoms after extensive testing had ruled out everything else.
Phyllis – who had a stroke a fortnight after getting caught in the spray and suffering a lot of illness. She keeps parrots and has had 32 die after spraying including 3 baby parrots that died the day after a spray. She had previously reported illness in her parrots including their heads swelling up after exposure to the spray.
Andrew – has had to battle for evacuation. Previously an under control asthmatic – now has a reduced immune system, suffers frightening levels of asthma and has had to buy his own nebuliser. Has lost his job due to being unable to work in the spray zone and is finding it very difficult to find another. They may lose their house. During the east Auckland spraying he lost one of his twins born prematurely. Both his other children now suffer spray related health effects. He says the family are forced to live out of a suitcase, have no life and no future.
All the evacuees including the four families in one street in the Swanson hotspot.
All those who've had to fight tooth and nail to continue to be evacuated and all those who are now being denied evacuation.
All those evacuees and their children who get sick after they arrive back home after each spray due to the spray residue in their houses.
All those who have been forced to sell up (frequently at a loss) and move out of the spray zone leaving behind family, friends, jobs, their children's schools and friends.
All those who can't afford to move out of the spray zone – who are forced to stay and get sick after each spray.
All those formerly healthy, productive members of society who are now on sickness benefits, unable to earn a living due to the severity of their spray related health effects.
May 24,
2003–Excerpts
from New Zealand News
[For more news or to get on the mailing
list
see the Auckland No Spray link above]
MAF is now considering aerially spraying
an
area
larger than the west Auckland spray zone for the Gum Leaf Skeletoniser
moth. Suburbs involved stretch from Onehunga to Manukau and include
East Tamaki, Mangere and the Airport.
Extensive destruction of eucalyptus
trees (the
moth's favourite food) is already being carried out by MAF in south
Auckland
suburbs. MAF has said that the moth could be wiped out with "only" a
year
of aerial spraying which it  considers to be the most effective
means
of eradication. MAF is also considering importing parasites from
Australia.
This and other non toxic alternatives to aerial spraying should be the
methods of first resort rather than, as in the saga of the Painted
Apple
Moth – the last resort, said Helen Wiseman-Dare of West Aucklanders
Against
Aerial Spraying.  She said that, as the moth had already been here
for at least two years and is now being found in over 40 sites this
suggested
it was already too late to achieve eradication.
She called on south Aucklanders today to
make
their concerns known to their local city councillors and arge numbers
of
west Aucklanders. Many west Aucklanders have sold up and relocated to
south
Auckland to avoid the spray and many are evacuated there on spray day.
If spraying takes place in south Auckland they will have nowhere to go.
She also noted that much of Auckland's
food
supply
comes from growers and manufacturing companies in south Auckland
including
many organic growers who, if overseas experience was anything to go by,
risked losing their organic certification when aerially sprayed with
Foray
48B.
March 7,
2003–Excerpts
from New Zealand News
A warm welcome to all the new spray
sufferers
who have joined us from the North Shore areas now being sprayed. I've
had
many calls from these areas. There appears to be a large increase in
those
suffering from severe skin rashes.  We have heard that the spray
formulation
has recently been changed which might account for this. In response to
a question asked in Parliament by Ian Ewen-Street (Green Party), Jim
Sutton
replied that 14,000 litres of this new formulation was used during the
last aerial spray in February.  People need to be very careful
when
gardening in particular – use gloves and make sure you are covered up.
The spray residue on vegetation is causing many problems. You may also
want to wear a spray mask (available from Mitre 10) to avoid breathing
it in. The next aerial spray is scheduled for Monday 10 March. Don't
forget
to keep your pets inside and close all windows and air vents in your
car.
You may have seen MAF's latest full page
propaganda
advertisement in the local papers and Herald about "The good news" that
the spray operation is going so well. Watch out for our version which
will
soon appear on the No Spray (NZ) website. You may have heard that MAF
are
reducing the spray zone. In reality all this means is that they are
cutting
a few streets off the edges of the zone in a couple of suburbs BUT they
are adding a whole new area in Ranui where they have found yet another
infestation.
Moths have also been found recently near
West
Harbour Marina and at Paremoremo. I predict an expansion of the spray
zone
northwards in the near future. After over a year of spraying moths are
still being found in the Cemetery and other areas.
Re health effects from the spraying –
one of
the
evacuees was told by one of the MAF doctors in December last year that
4,000 were being evacuated to motels overnight. Compare this with the
low
numbers quoted by MAF in their propaganda ads.
Phone Aer Aqua on 358 3206,  and
demand
to
be evacuated.  They are trying to cut costs by denying relocation
to those currently being evacuated.  Tell them that just one of
MAF's
full page propaganda ads in the Herald would pay for more than 200
people
to be evacuated for one night.  This is how much they cost: In a
week
day Herald:  $ 20,930.40 + GST.  In Saturday's Herald:
$ 23,873.40 + GST Just imagine what those TV ads cost. Now you know
what
the $90 million is being spent on.
Health Report
For those of you who missed the recent
public
meeting in New Lynn where Hana Blackmore's Report on health effects
from
the aerial spray programme was publicly released – you can download a
copy
from the No Spray website. Hana has compiled her excellent report from
all the Health and Incident reporting forms you have sent in. It
details
all the adverse health effects being suffered by the community from the
spraying. She is still collecting reports of health effects (in both
people
and animals) so to have your health effects counted (rather than just
swept
under the carpet by MAF) download a Health Reporting form from the No
Spray
Website and post it in. Print out some copies to give to all those you
come across also suffering health effects.
Have you told Helen Clark lately that
you
are
thinking of her?
Next spray day when you get up at 4.00 am
to
evacuate or to phone the Hotline to see if they're spraying today, give
Helen a ring too. Leave her a message asking her to come and stand in
the
school playgrounds with the children being sprayed. It's time she
showed
some solidarity with those she has sentenced to be sprayed for the next
3 years. Phone: 638 8055, and don't forget to tell her that AERIAL
SPRAYING
EQUALS NO LABOUR VOTE.  I note she is also looking for a new
electorate
secretary (I wonder why). You can phone 846 3117 to apply.
December
1, 2002-Anti-Spray
health Support Group Formed
Sally Lewis, one of the aerial spray
evacuees,
has formed a health support group for those who she sees as having been
marginalised by MAF.  They have been meeting informally since
March
2002. She says she has been deluged with calls from those suffering
severe
adverse health effects from the spray. There is no support available
for
these people, she says. Many have been refused evacuation by MAF and
are
being pressured to sign consent forms which would give MAF doctors
access
to victims' entire medical history and health records normally held
confidential
by a person's GP.  She considers this to be an abuse of patients'
privacy and is recommending that spray victims do not sign this form.
Many of those contacting Sally recount
disturbing
stories of the way they have been treated by doctors at Aer Aqua – the
medical consultancy contracted by MAF to provide medical assessment and
advice. Patients complain of having received no examinations or
treatment,
instead they are often sent for a raft of tests and x-rays and then
told
their symptoms are not spray related.  Many have been told their
symptoms
are psychosomatic or due to other causes.  They are then sent back
to their GPs in spite of GPs often having provided letters or
certificates
saying their health has been affected by the spray.  Some doctors
have reported a 50% increase in asthma cases.  Patients have also
reported burning throats and eyes, severe skin rashes, vomiting,
diarrhoea
and persistent headaches. There have also been some cases of severe
anaphylactic
shock.
Other evacuees, including a pregnant
woman and
her young children, have reported instances of being caught outside in
the spray due to mismanagement of their evacuation by MAF
officials.
Many of these people are now experiencing chronic health effects
including
severe diarrhoea and bleeding from the bowel.
Sally says she has set up her support
group in
response to the victimisation of spray sufferers by MAF and believes
there
is an urgent need to provide more funding to help these people out of
the
$90 million given to MAF by the government for the eradication
programme.
Sally Lewis
GASP
antisprayhealthgroup [at] newzealand [dot] co [dot] nz
Ph: 826 1292
November
29, 2002-Aerial
Spraying Protestors in New Zealand Considering Direct Action!
Helen Wiseman-Dare of West Aucklanders
Against
Aerial Spraying (WASP) said today that she was heartened to hear that
people
were considering protesting at Whenuapai Airbase where the spray planes
take off from, on the next Spray Day. Spraying is next scheduled for
December
2nd. WASP is encouraging residents in the spray zone to continue with
their
tarpaulins protest which involves covering up their gardens and
properties
during spraying as both a form of protest and as a way to protect their
gardens from the effects of the spray.  Many residents had
experienced
damage to vegetation in their gardens and plants dying after being
aerially
sprayed. Residents had also told her they wished to protect their
vegetable
gardens from being sprayed with unknown chemicals.  Organic
gardeners
were particularly concerned to keep Foray 48B off their gardens as it
is
not licensed for use in organic growing and growers overseas had lost
their
organic certification after being aerially sprayed.
WASP has also heard that some residents
intend
to float helium balloons 50 – 70 metres above their homes on spray days
as a form of protest.  Residents intend to have slogans such as
"MAF
OFF" or "FOKKER OFF" on their balloons (a Fokker Friendship aeroplane
is
one of the aircraft being used).
The government has, against the advice
of the
Treasury Department, given the Ministry of Agriculture and Fisheries
another
$90 million to continue aerial spraying over nearly 200,000 Auckland
homes
every 2-3 weeks for the next three years, to eradicate the Painted
Apple
Moth.  Mr Jim Sutton, Minister for Biosecurity has stated that he
has "no way of knowing with any certainty whether it would be a serious
pest in New Zealand. And we have no certainty of success in an
eradication
attempt." (3 July 2002).  MAF has put the chance of achieving
eradication
at only 60-80%. Aerial spraying started in January this year with
eleven
sprays being carried out so far.
Many residents and their animals have
experienced
adverse health effects and MAF is currently paying to evacuate at least
55 families on spray days. Many others pay their own relocation costs.
All are having to foot the bill for hundreds of dollars of doctors and
specialists visits plus medication costs, as well as vets visits for
their
sick animals.