No Spray Zone (NSZ) is a community-based citizen's group dedicated to ecologically sound pest management practices that do not compromise public health.
We are a nonprofit organization run by volunteers – there is no paid staff.
How We Began
NSZ was formed in March of 2000, when the Washington State Department of Agriculture (WSDA) decided to spray insecticide on a square mile covering Ballard, Magnolia, and Salmon Bay. The spraying was to eliminate a supposed invasion of Asian gypsy moths that the WSDA claimed would rapidly spread if unchecked and destroy Washington's forests. After a little investigation, it turned out that
WSDA had only trapped one moth.
No one has ever determined if the Asian Gypsy Moth can even live in North America, let alone eat forests.
The insecticide that would be sprayed by helicopter 3 times over 50,000 people was not as safe as WSDA claimed.
WSDA had apparently engaged in a deliberate attempt to mislead and keep the public out of the process.
Angry citizens decided to do something about this disregard for our health and safety, and began meeting in living rooms.
NSZ Goes Into Action
In a short time, NSZ was able to convince all the legislators from the affected district that the spraying was a bad idea.
What NSZ volunteers did:
Gathered 1400 signatures on a petition to the Governor.
Organized community meetings that drew over 550 concerned citizens.
Wrote letters to the editors of the local papers.
Organized demonstrations and street theater.
Provided interviews to the media.
Met with the Governor's chief of staff in Olympia.
Went to court to obtain a temporary injunction.
Ongoing Effective Efforts
We are campaigning to get hidden pesticide ingredients revealed.
We are working with the City of Seattle to reduce pesticide use in parks and playgrounds.
NSZ has been active lobbying the legislature to pass bills making it harder to spray poison over urban areas and to reveal the hidden content of pesticides.
We asked Washington State to sign on to a circulating petition that requested the Federal Environmental Protection Agency to require listing of all so-called "inert" ingredients on pesticide labels. This issue, previously ignored by our government in Olympia, is now debated at the highest levels.
YOU Are No Spray Zone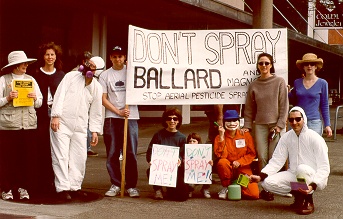 NSZ is an all volunteer group. We are here because our government is not doing enough to protect our environment and our health. We depend on you to support NSZ with your time and your contributions. Copying flyers, maintaining a web page, obtaining legal services and doing community outreach all take time and cost money. Please consider volunteering and/or donating to NSZ.