No Spray Zone: a community based citizen group dedicated to ecologically sound pest management practices that do not compromise public health.
Follow Us on Twitter!Follow Us on Twitter!  

---
Aerial Pesticide Spraying Scheduled for April/May 2018 in Washington
(Graham, WA and Olympic View/ Bangor Naval Base)

See Spraying Info for the latest updates, how to protect yourself during an aerial or ground spraying  and a trap location map.
---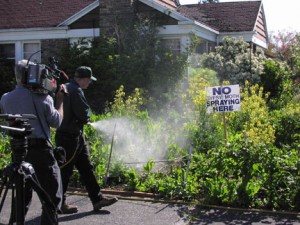 Gypsy moths are an invasive pest in the US. They can cause damage to deciduous (and possibly evergreen) plants. They can also cause economic damage if they become established in a particular area, because wood products, plants, and other exports need to be inspected and fumigated before non-infested areas will accept them. No Spray Zone does not want gypsy moths to be established in the Western states of the USA (they are already established in some Midwestern and Eastern states) any less than anyone else.
The reaction of state and federal agriculture bureaucracies to any incursion of gypsy moths into the Western states, however, has typically been overzealous*, to the point that the environment and human health are unnecessarily  risked. We advocate saner, science-based methods for eradicating small populations of gypsy moths when they are found.
This web site details
what the current treatment methods are for gypsy moth infestations
why the favored methods are suspected of being harmful to human health and the environment
what other methods can be used that are safer
what government is doing about gypsy moths and other invasive Lepidopterae (moths and butterflies)
what other communities around the globe are doing to try and get some sanity into the management of invasive species problems
what you can do to help stop unnecessary spraying
We try to keep abreast of the latest research in many disciplines concerning gypsy moth and the substances used to eradicate them. Many scientists, even specialists in particular fields such as entomology, toxicology, or molecular biology, are not aware of or are not able to see the "big picture." No Spray Zone strives to offer cross-discipline information in a presentable and understandable form for both scientists and the general public.
---

*On the gypsy moth webpage of the WSDA, the headline reads: "The most damaging forest insect pest ever introduced into North America!". Maybe, but just compare the permanent damage caused in the West  by the spruce budworm to the temporary and intermittent defoliation from established populations of gypsy moths to see that this statement is misleading, as are other statements by agricultural agencies about gypsy moths.